Last Updated on May 31, 2021
If you've seen any paranormal investigation shows, then you know about this little box. The P-SB7 Spirit Box is a popular piece of equipment for investigators around the world. It's simple to use and provides real-time answers, making it a go-to device for professionals and amateurs alike.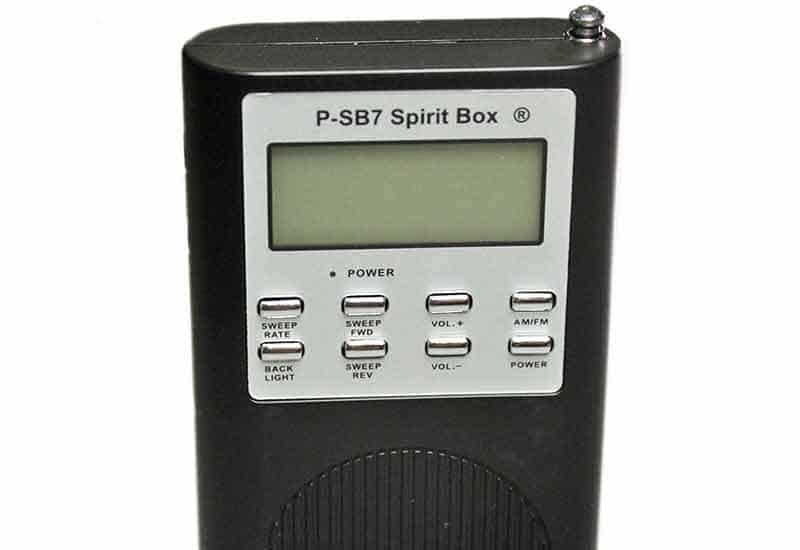 How does it work though? Fortunately, you came to the right place to learn. We will go over the origin of the Spirit Box, as well as how to use it, and its appearance on television. Afterward, you will know all there is to know about the box and may even want to buy one yourself. Most ghost hunting equipment that you see on television can be purchased online!
History
The history of the Spirit Box goes back to 1980 when William O'Neil created the 'Spiricom', This device was a rough version of the current SB7 Spirit Box. It functioned the same; the Spiricom cycled through radio channels searching for spirit communication. With the device, O'Neil claimed that he could hold a full conversation with a ghost. Even other paranormal investigators doubted this claim, making the Spiricom less credible.
Later, in 2002, a man named Frank Sumption created Frank's Box (also called the Ghost Box). Interestingly, Sumption stated that the design instructions were given to him by a spirit. The box used AM radio waves and white noise to prompt spirit communication. This device is still used, but the SB7 Spirit Box soon became more popular.
The SB7 Spirit Box was invented by Gary Galka, a paranormal investigator. Galka created the Spirit Box along with other paranormal devices sold by D.A.S. Distribution. Originally, the SB7 Spirit Box was created to be used on Ghost Adventures.
Since its creation, ghost hunters around the world have begun to use the Spirit Box. The box gives real-time answers, making it popular. Investigators no longer have to wait to review audio later; spirit communications could be heard immediately.
Over time, different versions of the Spirit Box have been released. D.A.S. Distribution has updated the design to get the most accurate results. Other companies have also tried their hand at creating the SB7 Spirit Box. You can buy Spirit Boxes and Ghost Boxes online, with different features and designs. If you are interested in buying different equipment, visit GhostStop and Pro-Measure.
Remember, equipment like this can become very expensive. Only buy a Spirit Box if you are serious. If you are a beginner and want to 'test' a spirit box, there are tons of apps on both the App Store and Google Play Store that function as mobile Spirit Boxes. Although they may not be as accurate, they are a great starting point.
How Does A Spirit Box Work?
First, let's go over how the SP7 Spirit Box works before we learn how to use it. The SB7 Spirit Box essentially picks up spirit voices through rapid scans of radio channels.
When a spirit is communicating with you, they can't just speak out loud as a regular person would. Instead, spirits have the ability to 'talk' through radio channels. The Spirit Box will scan through both AM and FM channels, in hopes of picking up a voice.
Many investigators believe that spirits and ghosts can manipulate radio waves. Through this manipulation, they can communicate freely. This is the basic concept of the SB7 Spirit Box. The box cycles through channels to make the spirit's voice more credible. By this, I mean that we rarely hear a normal voice across different channels. When you change the radio station in your car, you don't hear the same voice or song on both. When the channels cycle and a constant voice is present among them, this is credible evidence of a spirit attempting to communicate.
Fortunately, it is quite easy to use the SB7 Spirit Box. All you have to do is turn it on, ask questions, and try to be as quiet as possible. The Spirit Box itself is quite loud because it is cycling through channels. If you have seen it on television, you know how loud it can be.
Most of the time, a ghost or spirit won't begin communication without a prompt. When you use the Spirit Box, as questions that can be answered in a few words. Here are some questions to get you started:
Is anybody here?
What is your name?
How old are you?
Why are you here?
How did you pass?
Make sure to introduce yourself and state that you mean no harm. I know it may sound silly, but it could make a difference; if a spirit knows you mean them no harm, then they may be more willing to communicate.
The Spirit Box on Television
The SB7 Spirit Box has definitely made its rounds on television. Here, we will talk about some popular paranormal investigation shows where you can see the Spirit Box in action. The original SB7 Spirit Box was created in 2009, but since then, there have been different versions produced by different companies. Some of these shows use a version of the Spirit Box based on the SB7.
Ghost Adventures
With the help of Ghost Adventures, the SB7 Spirit Box came to be. In 2009, the Spirit Box was first shown on an episode of Ghost Adventures at the Allegheny Lunatic Asylum. The box aided the crew with their investigation, providing trustworthy results. Since then, the SB7 Spirit box has been used in almost every episode. Gary Galka works together with the Ghost Adventures crew; he has appeared in a few episodes and even had an investigation conducted with the spirit of his daughter who passed away in high school.
Kindred Spirits
Kindred Spirits is a newer ghost hunting show staring Amy Bruni and Adam Berry that is currently airing on the Travel Channel. On the show, they visit families that are experiencing any sort of paranormal activity in their house. The pair try to communicate with spirits and are often seen using the Spirit Box.
Ghost Nation
Ghost Nation is fairly new as well, first airing in 2019. The show only has 11 episodes so far, but it is still currently airing, so there will definitely be more! This show stars members of T.A.P.S, which may sound familiar if you have watched Ghost Hunters. Jason Hawes of Ghost Hunters began working on Ghost Nation after leaving the show. In some episodes of this show, you can see the crew using a Spirit Box because it is effective in communication with spirits.
CNET News
This is not a paranormal investigation show, but the SB7 Spirit Box still made an appearance here. CNET News is a tech news source that covers everything from the latest iPhone to video games. Below you can see a video of a ghost hunter demonstrating the SB7 Spirit Box.
Final Thoughts
Overall, the SB7 Spirit Box is essential to a paranormal investigation. Whether you are using the original box created by Gary Galka, or a different brand, it is an important tool to have with you. Communicating with spirits will become easier and more direct.
Now, you know all about the SB7 Spirit Box. Get out there are start communicating!