Last Updated on May 31, 2021
When Paranormal State premiered on A&E December 10th, 2007, it was a nearly instant hit.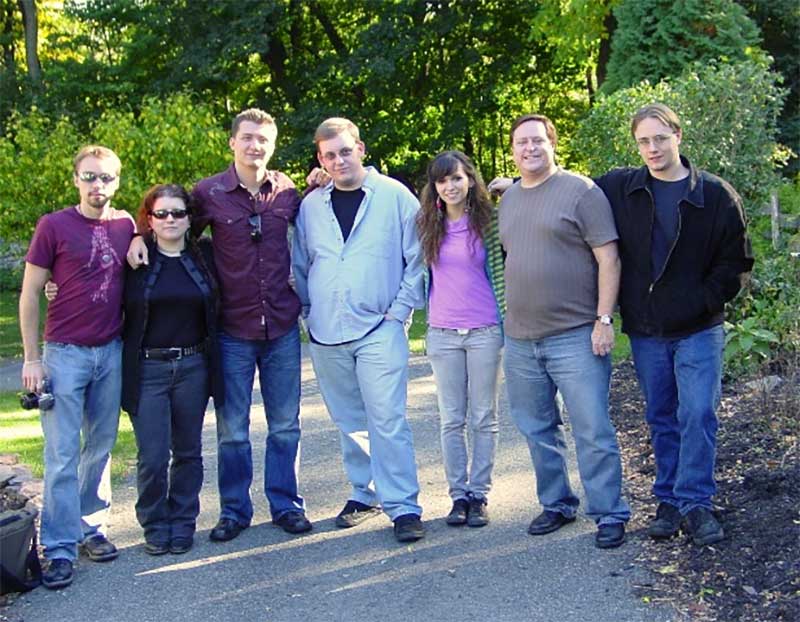 The paranormal reality show followed a group of Pennsylvania State University students. The students had founded a club called the Paranormal Research Society, which was also student-led. For the nearly four years the show was on the air until its series finale on May 2nd, 2011, the group led investigations at hundreds of allegedly haunted places.
But where is the Paranormal State cast now? Are they still working in paranormal fields? Let's investigate!
Chip Coffey
Although not a part of the original student group, Chip Coffey was a frequent guest and contributor to the show. He was also featured on other paranormal television shows, like Psychic Kids: Children of the Paranormal. Since the show finished in 2011, Coffey has continued to guest on other paranormal shows. He has also hosted a few of his own – Exorcism: Live!, The Real, Expedition Unknown, and Kindred Spirits. Most recently, he was featured on Haunted Salem: Live with paranormal investigators Adam Berry and Amy Bruni. He currently lives northeast of Atlanta, Georgia and is actively working as a medium, psychic, lecturer, and spiritual counselor.
Heather Taddy
Functioning as the team documentarian, Heather Taddy was a vital part of the Paranormal Research Society for more than half of its run. Since the end of the show, she has continued her work in the paranormal field as a tarot card reader. Most recently, she has also starred in a television show called Alien Highway. She has also acted in a few short films and movies and is the bass player in a post-punk band called Glowworms. She is also involved with Atherton Paranormal.
Eilfie Music
After Paranormal State went off the air, Eilfie Music stopped doing paranormal investigating publically. She is still living in Pennsylvania and currently runs her own Etsy page, Hecate's Crossroads, where she sells her paintings and artwork. She has not appeared on any more television shows.
Katrina Weidman
Katrina worked as the case manager for the Paranormal Research Society, where she did the majority of eyewitness interviews. After the end of Paranormal State, she went on to host Real Fear: The Truth Behind The Movies and its follow-up Real Fear: The Truth Behind More Movies for Chiller. She currently cohosts Paranormal Lockdown with Nick Groff, which airs on Destination America. When she is not cohosting, she also travels around lecturing at various events and conferences on the paranormal. She also co-founded the group Atherton Paranormal, which helps research paranormal technology and phenomena and helping those who were affected by it. Katrina also is the lead singer of AwayFrom30, an alternative rock band.
Ryan Buell
The "star" of the show, Ryan Buell also was one of the original founders of the Paranormal Research Society. Unfortunately, he has since run into some legal trouble. Ryan was arrested and spent 30 days in jail on a theft charge in 2016 and was arrested again in 2017 after harassing his boyfriend. After getting out of jail in July 2017, he started a personal blog that he continues to write on. He has since admitted to having previously struggled with drug addiction. There was also a pancreatic cancer scare that he self-reported, although some close to him are saying that was also a fraud. Ryan was also involved in a large controversy surrounding pre-sale tickets that he sold for events that were subsequently canceled. The total for this fraud was around $85,000.
Sergey Poberezhny
After the end of Paranormal State, Sergey faded from the spotlight. He and his wife Melissa briefly hosted a live talk show called Frame of Reference on Live Paranormal, but it does not appear that he has been doing anything active lately. In 2017, he spoke out and specifically distanced himself from Ryan Buell and the surrounding controversy. He currently resides with his wife in South Carolina.
Michelle Belanger
Michelle has been one of the more prolific members of the Paranormal State crew. She has written dozens of books, both fiction and non-fiction. She has also recorded music, as she is an avid singer (with Nox Arcana). She tours the country doing both speaking engagements and book tours but spends most of her time at her home in Ohio. She is also an outspoken advocate for the "vampire" community, as a self-professed psychic vampire. Michelle has also appeared on television in both Paranormal Lockdown: Monroe House and Portals to Hell: Eastern State Penitentiary.
Josh Light
Josh Light was the "tech ninja" of the Paranormal Research Society. He is involved with Atherton Paranormal, alongside Katrina Weidman and Heather Taddy. When he is not researching paranormal phenomena with his social networking site, Fringe Society, he is creating, writing, or inventing.
Chad Calek
In 2010, Chad completed a documentary called American Ghost Hunters, which spans 20 years of the haunting of his childhood home. He has also worked on an A&E special, The Ghost Prophecies. Chad continues to tour and lecture at various venues across the country and is mostly known for his video presentations of paranormal phenomena. His most recent film, Sir No Face Lives, debuted in 2017.
Lorraine Warren
Any article about the Paranormal State cast would be remiss without mentioning their most famous contributor, Lorraine Warren. After the show went off the air in 2011, she was a consultant for multiple movies based on previous cases, like The Conjuring and Annabelle. She also was a guest demonologist on other paranormal reality shows like Paranormal Lockdown, Portal to the Unknown, My Amityville Horror, and Fantastic. She and her husband also ran a paranormal museum out of the back of her own home in Connecticut. Unfortunately, Lorraine passed away in April 2019 at age 79.
It appears that much of the Paranormal State cast is still involved in paranormal researching of some kind. Although controversy seems to revolve around some of them, it is nice to see that they are still involved in attempting to help people.