Last Updated on May 31, 2021
Across the country, people have seen specters, spirits, and apparitions. We call them ghosts, and they seem to be tormented souls that have never found out exactly how to move on from this earth. So where do you go to find ghosts? Well, just go where they were most tormented when they were alive. That brings us to our list of the five most haunted prisons. Sure, there may be a particular house or building with a particularly grisly murder, but these prisons were filled with torment and pain for decades.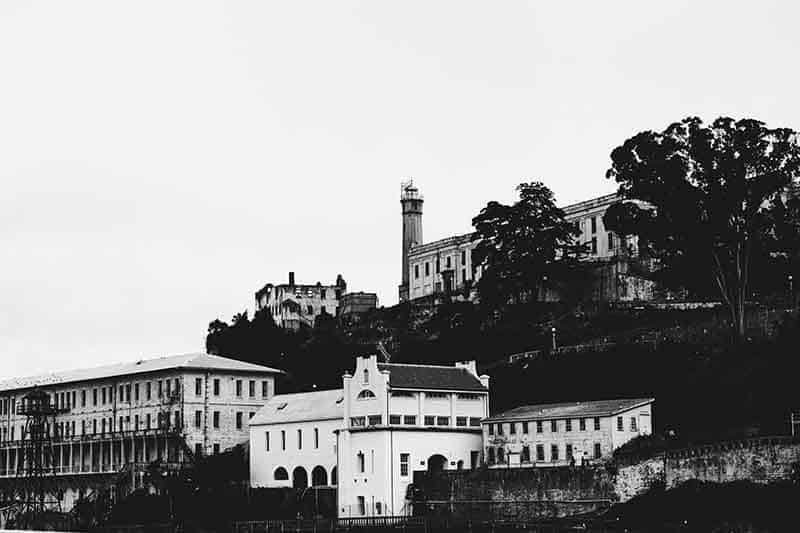 1. Ohio State Reformatory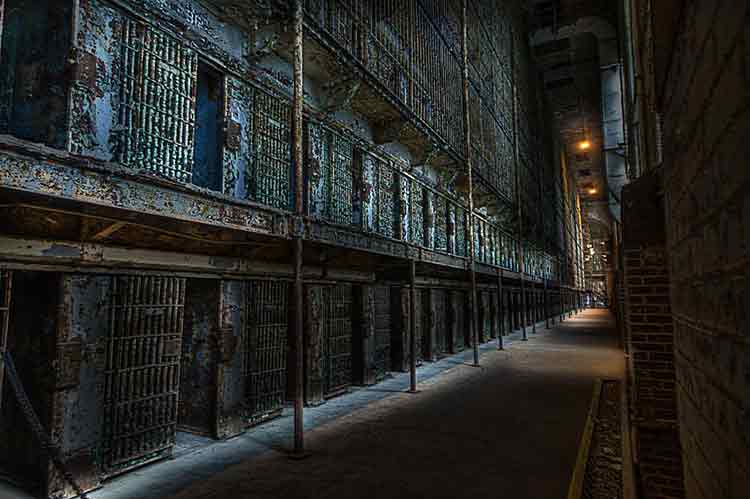 Mansfield, Ohio
Located in Mansfield, the county seat of Richland County, Ohio, sits the Ohio State Reformatory. Construction began in 1886 but the prison wouldn't open for another 10 years, and wouldn't be officially completed for another 4 years. This was due to financial troubles, as well as architectural challenges. The reformatory was constructed with varying architectural styles, including Gothic, Romanesque, and Queen Anne building styles. The architect, Levi T. Scofield, claimed that the varying architecture would give the inmates the spiritual tools they would need to be reborn.
The prison was originally opened as an "intermediate" prison, meaning it was supposed to be in between juvenile detention and the state penitentiary in terms of who was housed there. Mostly this meant young, first-time offenders.
On the day the prison opened, September 15, 1896, 150 young men were brought in by train from Columbus and were forced into labor immediately. They helped construct the prison's sewer system, which was not completed in time for their arrival. Also, they were forced to build the castle-like 25-foot stone wall that surrounded the prison. They literally walled themselves in. Ohio State Reformatory had a reputation for overcrowding as far back as the 1930s. Prisoners were crammed in like sardines. They lacked proper hygiene and care. It became violent, with beatings and death not being uncommon. It remained open until 1990 when it was finally forced to close after a federal court order, brought on by prisoners taking the state to court over inhumane conditions.
2. West Virginia Penitentiary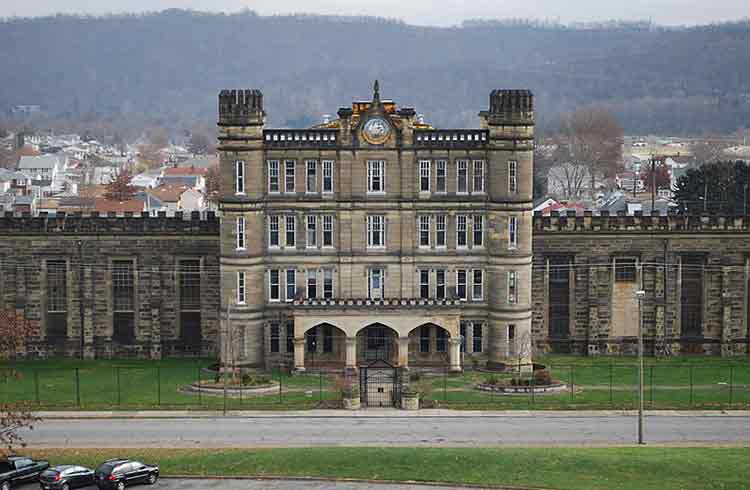 Moundsville, West Virginia
West Virginia Penitentiary was built as a direct result of the Civil War. West Virginia broke off from Virginia so they could stay in the Union, but the new state was lacking many of the institutions that were already established in Virginia, like a proper prison. The state ignored pleas from local towns about overcrowded jails and unsafe conditions until nine inmates escaped in 1865. Construction began in 1866. The walls would be built by prisoners who would then go to live inside the prison, some for the rest of their lives.
94 men were executed on-site, 84 of which were death by hanging. Hanging was the method of execution until 1949. Frank Heyer was one such man. On June 19, 1931, he was the last man hanged whose execution was open to the public. It was the last public execution because Heyer was decapitated after the trap door opened and the weight of his body pulled him down. The final man hanged was Bud Peterson, who it is said still roams the grounds to this day. He murdered a woman, Bessie Wright, after breaking into her home. His family never came to collect his body and he was buried in the prison cemetery.
You can visit the penitentiary today and take a look around. It's not uncommon to hear voices, some say they're screams. Or catch the smell of the electric chair, used for the other ten executions. If you hang around long enough you'll start to feel what the prisoners felt. Alone, cold, and scared.
3. Eastern State Penitentiary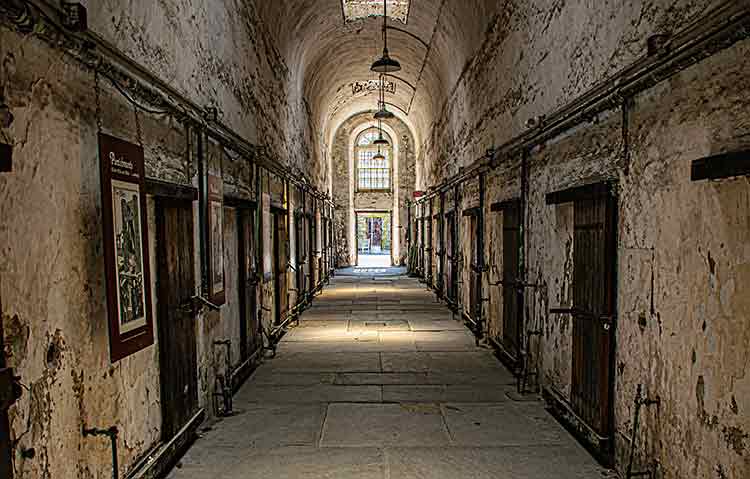 Philadelphia, Pennsylvania
In the Fairmount neighborhood of Philadelphia sits what was once the largest prison in the United States. Eastern State Penitentiary, contructed in 1829, was the largest prison, and the largest public project overall at the time. Built only 53 years after the nation declared independence in that very city, Pennsylvania needed a larger facility to house the growing number of convicted criminals. It's a relic of the past, starkly out of place with its castle-like walls in the middle of bustling modern-day Philadelphia. With a dark history of torture and psychological breakdown, Eastern State is considered by many to be one of the most haunted prisons in the world.
With its stone walls and high ceilings, the prison was designed to feel like a church on the inside. The only source of light in a prisoner's cell would be a lone skylight, meant to signify the eye of God. Author Charles Dickens visited the prison in 1842 and saw the practice of placing hoods on prisoners to keep them isolated. Tortures common by guards included the Mad Chair. It involved strapping prisoners to a chair with leather restraints—so tight that they cannot move at all—and then leaving them in solitary confinement for days. The inability to move, combined with darkness and no human contact, forced many to go insane, hence the name.
In the 1990s the prison was being renovated and locksmith Gary Johnson was going around unlocking many cells and doors throughout that prison that had been sealed since the prison closed. In cell block 4 Gary was working on a lock that was purportedly 140 years old and particularly stubborn, but not unlike others that Gary unlocked easily. After wrestling with it for some time, Gary opened the lock and was overcome with an inexplicable energy, one that forced him into an out-of-body experience. He claimed to see the faces of hundreds of tormented souls on the walls of the cell he had opened, and an attractive negative energy wanted him to stay. If you visit Eastern State, see if you notice the faces of any tormented souls.
4. Alcatraz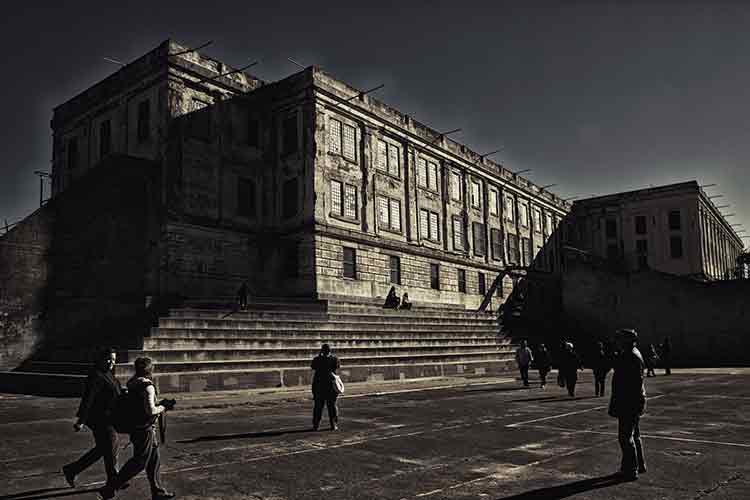 San Francisco, California
Probably the most famous prison in American history, Alcatraz is an island prison in the middle of San Francisco Bay. Known colloquially as "The Rock", many famous gangsters and mobsters including Al Capone and George "Machine Gun" Kelly. The prison was run by the Federal Bureau of Prisons as this was a federal prison handling only the most heinous criminals, but many people don't know that before this function, it was used as a military prison. Confederate prisoners and criminals were sent to Alcatraz during and after the Civil War. Draft dodgers and other dissidents were forced to serve time in Alcatraz during the Spanish-American War and World War I.
When it was transferred to the Federal Bureau of Prisons, the intent was to create a facility that would be impossible to escape. Indeed, escaping a high-security prison on an island surrounded by the freezing waters of San Francisco Bay does seem like a tall order, but there were attempts, most ending bloodily and in death. The only potentially successful escape was by a group of three men serving time for bank robbery. For months they secretly dug tunnels out of their cells and crafted paper mache heads to trick the guards into thinking they were asleep in their cells. No bodies were ever found, and no trace of the men was ever seen on land or sea.
Currently, the island is administered by the National Park Service. Staff for the park service are adamant that the island and prison are haunted. Cold spots and whispers are common indications of the spiritual activity that permeates the island, with some tourists even claiming to see apparitions and hear scratching on the cell walls.
5. Missouri State Penitentiary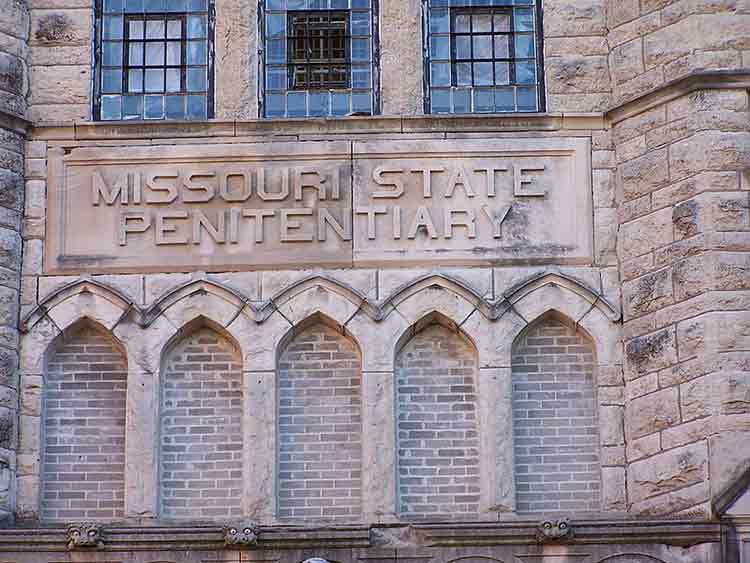 Jefferson City, Missouri
Active from 1836 to 2004, Missouri State Penitentiary was the oldest operating prison facility west of the Mississippi River at the time of its closure. As such, its 168-year history contains a lot of violence, death, and torment. It was known popularly as "The Walls", referring to its large, foreboding concrete walls. The initial set of prisoners comprised only 15 individuals. They were also used as labor to help build the prison itself, as was common in these early American prisons. One of the most famous inmates of Missouri State was James Earl Ray. Ray successfully escaped Missouri State by hiding underneath a truck delivering bread to the prison bakery in 1967. In 1968, after running away to Mexico and subsequently returning to the United States, Ray assassinated Martin Luther King Jr.
The riot of 1954 was organized by inmates. Two inmates feigned illness to attract prison guards, and then other inmates ambushed them and stole their keys. They subdued the guards and ran throughout the cell blocks, freeing prisoners. Police forces from outside the prison needed to be called in and by the time the dust settled four inmates had died, one attempted to commit suicide, and about thirty others were substantially injured.
Hundreds of hauntings and sightings have been reported throughout the years, both before and since the prison's closing in 2004. Time Magazine once referred to the penitentiary as the "bloodiest 47 acres in America" due to the practically constant violence that occurred within 'The Walls'. Therefore it isn't surprising that paranormal investigations are common and investigators frequently leave feeling very satisfied with what they find.